After months of speculation it is now official, baseball will have expanded instant replay for 2014. The new replay rules will now feature a challenge system similar to the NFL where managers will get a challenge per game. If they are correct with their first challenge, they will get a second one. This applies only for the first six innings, after that it will be up to the entire umpire crew to determine if the play should be reviewed.
Teams will have a phone line from their clubhouse video room to the dugout that permits quick counsel on whether to challenge.
Here is a list of all plays that will now be reviewed courtesy of MLB Public Relations.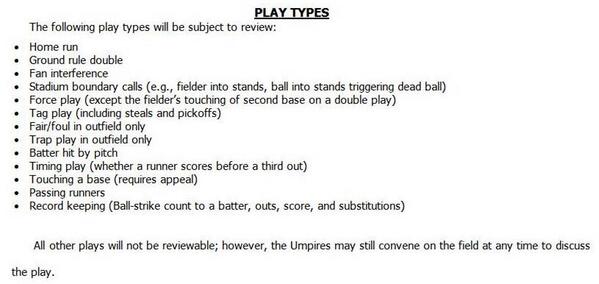 This will cause a significant change in baseball, hopefully for the better. It's interesting to think about as if this system was in place two years prior, perhaps Johan Santana never got his no-hitter. The ball Beltran hit was clearly fair and probably would have been challenged by Mike Matheny.
Ideally the pace of games won't change too much with this major change to the game.